Isle of Man First Day Covers
Part16 Weboffers from Isle of Man Sales Ltd
All covers are special covers and cancelled Douglas unless otherwise stated.
A1600. 1.7.68: 5d, 7d, 8d, 10d Definitives, First Day of Issue cds. Scarce. ?3.50
A1601. 1.7.69: Prince of Wales set of five on *** cover. ?2.00
A1602-06 Isle of Man Regional Issues
A1602. 18.8.58: 3d Lilac, the first IoM Regional issue, on plain cover. ?4.00
A1603. 7.2.66: 4d Blue, 'First Day of Issue' slogan. ?3.50
A1604. 4.9.68: 4d & 5d, 'small letters' cds. ?3.50
A1605. 7.2.66: 4d Red, cds cancellation. ?2.50
A1606. 7.7.71: Decimal Regional set of four. ?2.50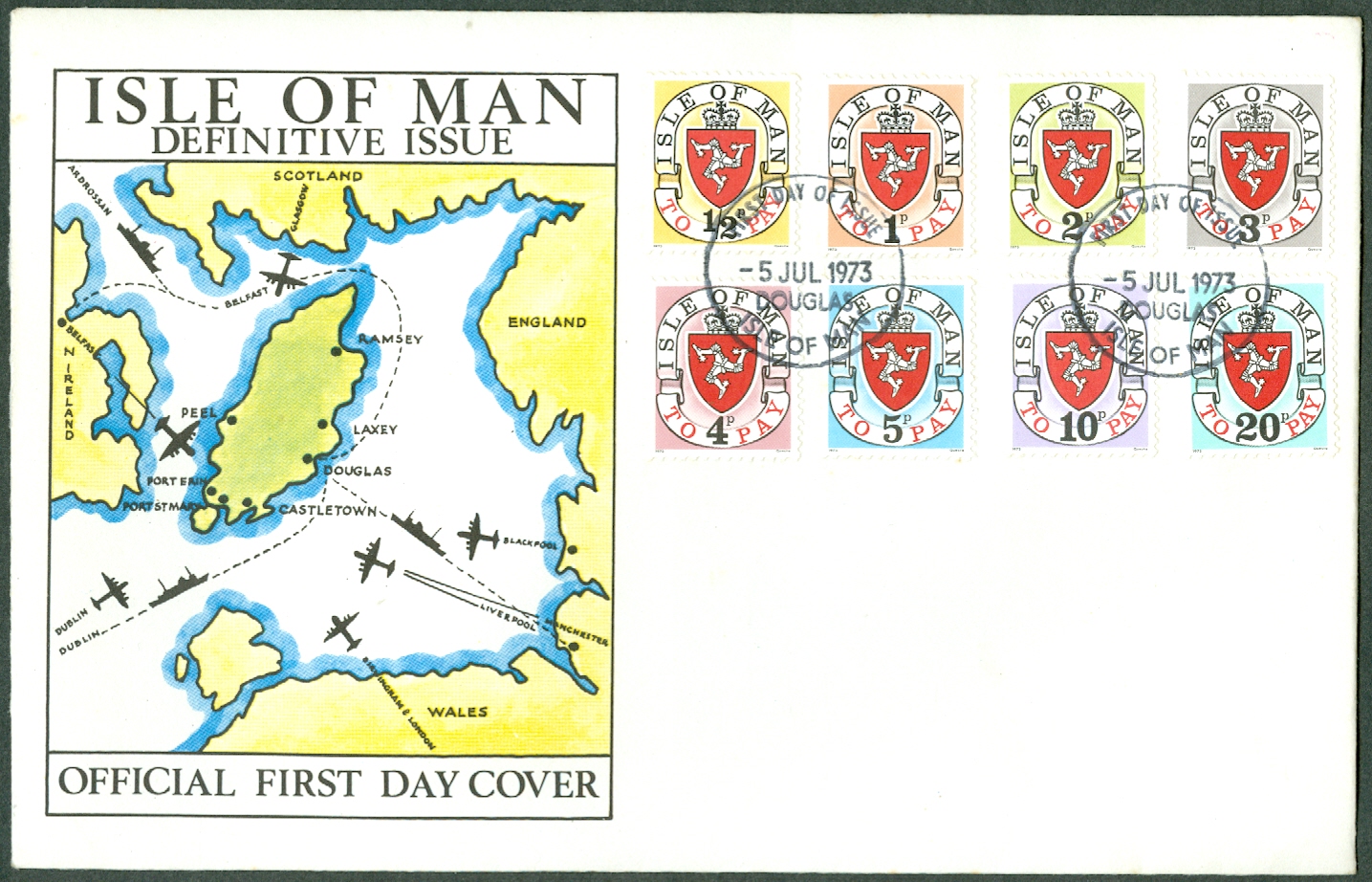 A1607. 5.7.73: '1973' Postage Due set of eight: scarce on FDC. ?20.00
A1608. 5.7.73: 1973 Definitives on four FDC plu a further three FDC with later additional values. ?3.00
A month later, the two returned to the bride's hometown to have a rolex replica watches . Beatrice wore Giorgio Armani Prive's custom-made ivory white silk wedding replica watches , elegant and noble.
A1609. 1973-75: Bargain lot of eight FDC with all commem issues 5.7.73-28.5.75; provides excellent 'starter' lot: issues are Inauguration, Railway, RNLI, TT Races 74, Historical, Churchill, Pioneers, TT Races 75. ?2.50
A1610. 1975-77: Another bargain lot to cover commems 9.9.75-19.10.77: Goldie, Bible, American Bicentennial, Horsetrams, Europa 76, Xmas 76, S Jubilee, TT Races 77, Europa 77, Wesley. ?3.50
A1611. Miniature sheet FDCs: Churchill 1974 & Bicentennial 1976. ?1.00
A1612. RAMSEY First Day Covers: far fewer FDCs were serviced at Ramsey, these covers would add interest to a collection: 1977-78: S Jubilee, TT Races 77, Europa 77, Coronation, Europa 78, Ward, N A Manx, Commonwealth Games, Xmas 78. ?3.00
A1613. RAMSEY 1979 First Day Covers: Natural History, Europa, Millennium, Royal Visit, Odins Raven, Quilliam, Xmas. ?3.50
A1614. RAMSEY First Day Covers: Geographical 79, Steam Packet, Europa 80, King Williams College 1983. ?3.00
oooo Click here for the next Part (Part 17 Calf of Man)
oooo Click here to return to the index of Weboffers