Isle of Man First Day Covers
Part16 Weboffers from Isle of Man Sales Ltd
Queries? iomsales@manxlines.co.uk
All covers are special covers and cancelled Douglas unless otherwise stated.
A1600. 1.7.68: 5d, 7d, 8d, 10d Definitives, First Day of Issue cds. Scarce. £3.00
A1601. 1.7.69: Prince of Wales set of five on slightly grubby cover. £1.00
A1602-06 Isle of Man Regional Issues
A1602. 18.8.58: 3d Lilac, the first IoM Regional issue, on plain cover. £3.00
A1603. 7.2.66: 4d Blue, 'First Day of Issue' slogan. £2.50
A1604. 4.9.68: 4d & 5d, 'small letters' cds. £3.00
A1605. 26.2.69: 4d Red, cds cancellation. £2.00
A1606. 7.7.71: Decimal Regional set of four. £2.00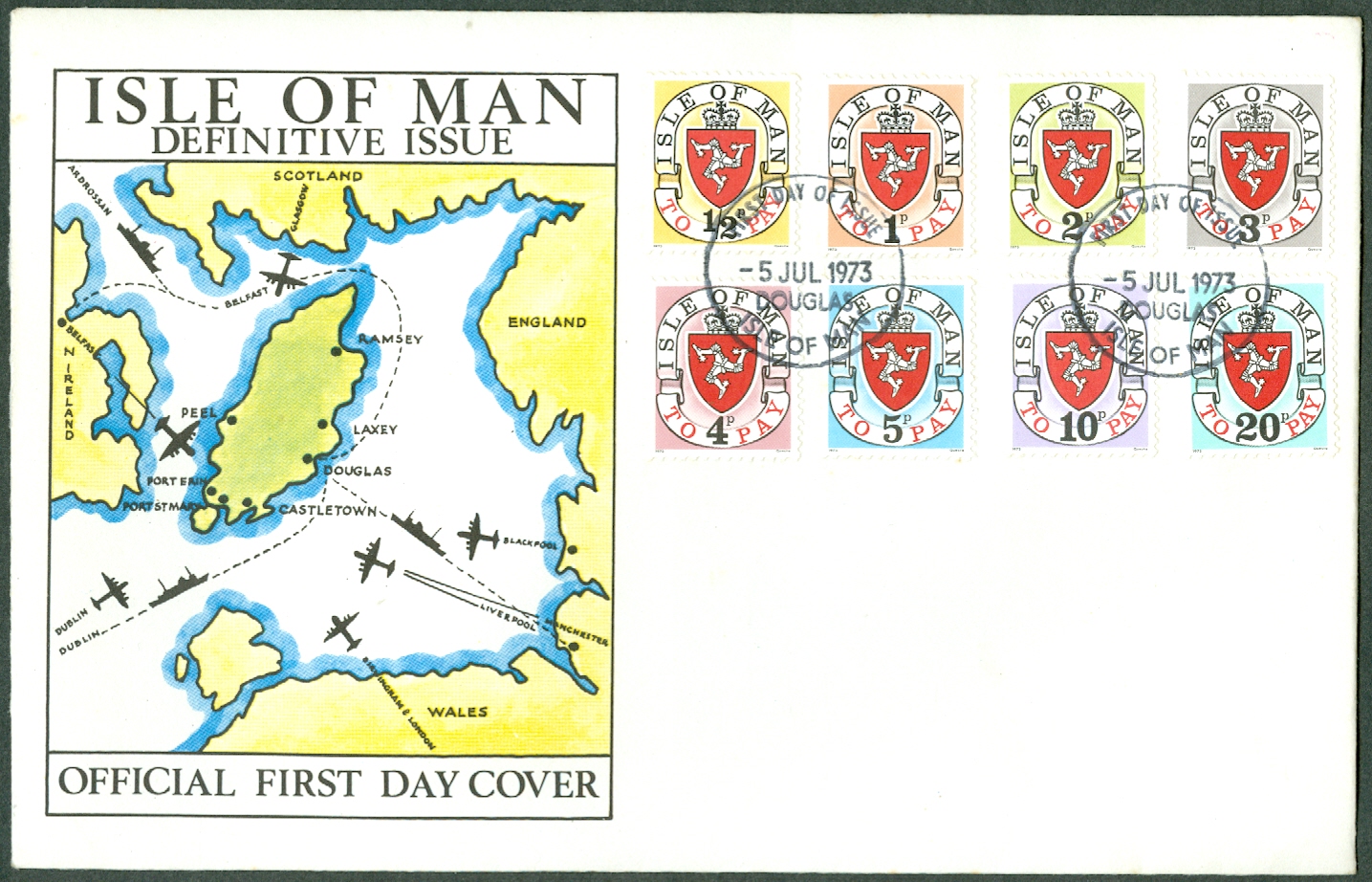 A1607. 5.7.73: '1973' Postage Due set of eight: scarce on FDC. £15.00
A1608. 5.7.73: 1973 Definitives on four FDC plus a further three FDC with later additional values. £2.50
A month later, the two returned to the bride's hometown to have a rolex replica watches . Beatrice wore Giorgio Armani Prive's custom-made ivory white silk wedding replica watches , elegant and noble.
A1609. 1973-75: Bargain lot of nine FDC with all commem issues 5.7.73-28.5.75; provides excellent 'starter' lot: issues are Inauguration, Railway, RNLI, TT Races 74, Historical, Churchill, Churchill mini-sheet, Pioneers, TT Races 75. £2.50
A1610. 1975-77: Another bargain lot (11 covers) to cover commems 9.9.75-19.10.77: Goldie, Bible, American Bicentennial, Bicentennial m-sheet, Horsetrams, Europa 76, Xmas 76, S Jubilee, TT Races 77, Europa 77, Wesley. £3.00
A1611. RAMSEY First Day Covers: far fewer FDCs were serviced at Ramsey, these nine covers would add interest to a collection: 1977-78: S Jubilee, TT Races 77, Europa 77, Coronation, Europa 78, Ward, N A Manx, Commonwealth Games, Xmas 78. £3.00
A1612. RAMSEY 1979 First Day Covers: Natural History, Europa, Millennium, Royal Visit, Odins Raven, Quilliam, Xmas. £3.00
A1613. RAMSEY First Day Covers: Geographical 79, Steam Packet, Europa 80, King Williams College 1983. £2.50
A1614. D-Day set of eight stamps 1994, carried on QE2 Commemoration cruise June 1994. [Detail enlarges cachet]. £4.00
oooo Click here for the next Part (Part 17 Calf of Man)
oooo Click here to return to the index of Weboffers